Introduction: We all want tangle-free hair and beautiful hair. While the summer unleashes the frizz and the flyaways in a way and keeps hair dull. It also makes it difficult for us to manage our mane. Well, here we come up with the solution. Yes, you are thinking the right way… It is permanent hair straightening. The one solution for all your daily problems. Now say bye to tangled and frizzy hair, with the best permanent straightening technique. Now, if you are worried that permanent hair straightening can damage your hair. Then, here today in this article we had come to solve your queries. Keep reading you will get the best possible answers for all your doubts.
Permanent hair straightening treatments gives your hair a straight,smooth,and shinier look. These are a form of chemical processing for your hair and make morning routines hassle-free by producing seamlessly straight hair. Moreover, depending on what method of processing you use for making hair straighten. Yes, you will be amazed to see the results... Whatever the hair type and texture you have? The best permanent hair straightening treatments can be altered curly or textured to lay flat and lose their curl.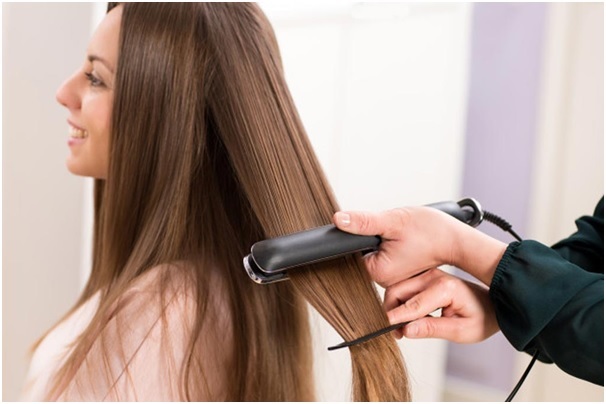 Best possible treatments for permanent hair straightening
Well, these best hair treatments work for several months or more, depending on the best permanent hair straightening treatment. It usually lasts until new hair grows thoroughly and replaces the hair which was treated. There are two steps to hair straightening. The first is by altering the chemical structure of your hair. Then the next step is to mechanically lock the new structure of your hair. It results in straight hair that will last for several washes or till new hair grows. There are many ways of permanent hair straightening treatments on the market. You can choose accordingly and these are some mentioned to help you address your hair woes. Check out below for the best optimum solution.
Professional permanent hair straightening

Keratin treatment

Japanese Thermal Reconditioning

Home Perms

Professional permanent hair straightening:
Professional permanent hair straightening
Permanent hair rebonding is a chemical process. This fundamentally uses multistep treatment chemicals such as formaldehyde or aldehyde. Hence, to break apart the natural bonds of your hair follicle and then work to rebuild the bonds into a different shape. As a result, it creates smoother and straighter hair. The treatment must be performed by a professional hairdresser or cosmetologist, and you can choose any good brand on the market as well. Normally it lasts for up to six months or depends upon your hair growth also. This process can take anywhere between five to eight hours of your time to get the desired results. After applying the chemical your hair is washed, and a hair straightener is used to seal the bonds. This is done to fix your hair that has been altered by the chemicals. The process may be repeated twice or thrice which all depends on the thickness and structure of your hair.
Key factor: It's a good idea to leave ample time between each treatment, if you are planning to renew your hair or for permanent hair straightening. Hence, to prevent an influx of harmful ingredients from affecting your hair.
Keratin treatment
Well,these days Keratin treatments are also in demand. Now if you are thinking about what is keratin? Let us clear… Keratin is a natural protein found in our hair. This protein helps to make hair healthy and shiny as well tangled-free and straight texture. But sometimes, if we failed to take a healthy diet according to age, the keratin level might drop, so which results in damaged damaged hair.

Keratin or Brazilian blowout treatment in which a coat of chemicals with the main component as keratin is applied to your hair these days known as Keratin Treatment. The chemical is then fixed in your hair with the use of a straightener for permanent hair straightening. This treatment is recommended for those with weak hair.The reason being it uses milder chemicals as compared to the other types of hair. Hence,cause less damage to your hair as compared to other hair straightening treatments. It cuts down on your frizz and you have, soft and smooth hair with manageable frizz. It lasts for about 20 to 30 washes and, around 3 to 4 months.
Key factor: To make sure that your hair is given the strength, it requires and to reduce the chances of breakage you can take a hair spa at intervals.
.
Japanese Thermal Reconditioning
This Thermal Reconditioning is also another treatment commonly used by hair experts to permanently straighten your hair. It promotes a permanently altered hair follicle. The process requires both chemicals and heat, and about take six hours. The process mainly promotes loosening the protein bonds in the hair. The chemicals used in the straightening process are extensive, which helps hair naturally lose its wavy texture. Well, it's a chemical process to breaks and reshapes the bonds the main superpower ingredient is ammonium thioglycolate. The hair is in a state that requires the use of heat after the process of application. To give the hair a smooth texture the hair is flat-ironed so the straightened texture is locked, with the neutralizer to reattach the protein bonds. So, get your wavy hair is ready in its new shape. Yes, a new straight, glossy look.
Key factor: Thermal reconditioning can cause damage to hair as it uses extreme hard chemicals for the revival process. So, make sure your hair is strong enough and contains a good texture to bear the high-temperature heat.
Home Perms
At-home perm kits can be used for permanent straightening.These kinds of kits are easily available from the market. These perms also give good results if used perfectly. But these kits were difficult to use and tricky also,although it costs very low a tedious job to perform at home.To use these kits you have to be a little efficient and the reason isthat most women like to spend a day at the best saloon to straighten their hair. It is easy to become confused however, you have faster alternatives, with so many options and types of hairstyle perms. So, simply settle for something that is necessarily the best for your hair and do it properly with keen patience and expertise.
Key factor: If you want to perm your hair, at home. Firstly you need an assessment of the type of hair you have. It is the easiest to perm thick hair with a natural wave. If you have thin, straight hair, it is hard to judge the best perm. Hence, you will need an expert who is familiar with your hair type to permit your hair. So, you can also choose the best hair professional saloon if you want the best results with good color and technique.
Side effects of hair straightening
Yes, there are some side effects of hair straightening as well. You must be aware before taking any of the treatments. As there are always two sides to a picture and there are pros and cons as well. As, it is well said that if you want something good, you have to lose as well. So, to get frizz-free untangled smooth, shiny hair you have to accept these side effects also. These are some common causes that one might face after permanent hair straightening.
Itchiness

Regrowth Of Unsightly Roots

Slower Hair Growth

Itchy Scalp

Breakage

Split Ends

Permanent Hair Loss

Hair Fall

Breakage
Precautions to be taken for Side Effects Of Hair Straightening
So, here we come with the best of the precautions that need to be taken before permanent hair straightening. It is better to prevent later than cure. I Hope, you get information that how permanent hair straightening work and about its basic side effects. But, you can follow these precautionary measures before straightening your hair from a professional salon. These measures must help you to provide good results after hair straightening and, you can save your hair from damage. Check out these points below.
To prevent from getting completely fried by your straightener, it is recommended to always apply a heat protectant to your hair before straightening

Avoid straightening your hair just twice a week.

It is also advisable to set your straightening iron at a low or medium temperature.

Restricted to straighten your hair when it is wet. Your hair is at it its weakest most prone to breakage.

Always use the best conditioner or masque before you wash your hair. You can also deep massage your hair to lock the moisture and restore it.

You can also use natural hair masks at home. It includes yogurt, coconut milk, honey, and olive oil. You can use it weekly to moisten your hair naturally to moisturize your hair naturally.

Apple cider vinegar also gives the best results for hair. You can use it simply by taking, only two tablespoons of it and by mixing it with water properly. It helps to restore hair and grab lost shine and dullness.
FAQ
Q Can permanent hair straightening damage your hair?
Permanent straightening uses Chemicals that can break the disulfide bonds of your hair. Moreover, every time you put harsh chemicals on your hair and scalp, you can have hair damage issues. chemical straighteners can cause scalp burns, breakage, and, rarely, hair loss if not used technically and appropriately. The best way to avoid damage is by choosing the best technique and using the best conditioners and masques to repair your hair. It is also recommended to choose an experienced professional saloon which helps you in the best possible way.
Q. Can we do permanent hair straightening at home?
Yes, you can straighten your hair at home by using at-home perm kits. Home perms are now available in various options and easy to manage than they used. the new chemicals are much less dangerous these days. Home perms will save you money also. However, if you don't know about the texture and type of your hair then you can choose a professional hairstylist. If you want to benefit from the newest techniques and ideas, then also a professional salon is the best choice.
Final Verdict:
Permanent hair straightening refers to treatments that will make your hair straight, silky, and smooth. These are commonly done at an affordable cost by most saloons these days. Beyond perfectly straighten and vague definition, your results will vary widely according to your hair type, and texture. Moreover, the chemical method and type you use to straighten your hair matter a lot. So, it is also recommended to choose some professional and best saloons such as Jawed Habib to get the best and safe results. These days permanent hair straightening is done by many stylists but, it is safe when you go with one of the best like Jawed Habib.
Moreover, Keep in mind that "permanent" doesn't mean always. It refers to the duration of one life cycle of your hair and, till your new hair grows and how you care for your straighten hair. Speak to your professional hairstylist about the best options, methods, and techniques according to your hair type to be the best one for you. So, have a happy hair straightening with the best professionals so, that you don't face any issues later and get the best results with utmost satisfaction.