Hair is an integral part of our body. We cannot imagine our lives without hairs on our heads. But some do face the problem of baldness. Hair loss can take place in people of any age. 
There is no defined age for hair loss. But what to do after your hair is lost? Or did you become completely bald? There are options available for the recovery of hair. You can either go for a hair transplant or get yourself a new hair patch. 
While hair transplantation therapy is very painful, getting a patch is way easier. You just need to visit the right place. In this blog post, we will cover all the major points related to hair patch treatment. So let's start.
What is Hair Patch Treatment?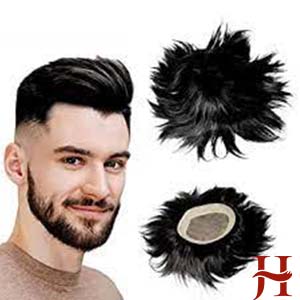 The process of getting a hair patch is also known as artificial hair restoration. This process is quite simple. People who suffer from hair loss tend to go for this hair restoration process. 
The procedure for hair patch treatment is purely non-surgical. The patch is placed on the areas where baldness has occurred. The patch of hair is placed with the help of cosmetic glues or even clips. The glues and clips are completely safe and do not cause any allergy to the scalp. 
A hair patch is an effective method of hair restoration. This procedure is especially suitable for those who do not want to opt for surgical restoration due to financial crunches. The hair patch is particularly designed to fit the patient and it gives a natural look. 
Traditionally, people used to wear wigs. But the wigs were larger than the scalp and give a completely natural look. The hair patches are comparatively smaller in size and give a colorful texture. 
This cosmetic treatment is completely safe and does not take much time.
Now an important question comes here. Where to get the hair patch done? Well, a salon or a clinic where everything is done under the supervision of a Dermatologist is a suitable place to get the hair patch treatment done.
Now if you are from Lucknow, you can get your hair patch done from the best salon for hair patches in Lucknow, i.e. Jawed Habib Lucknow. 
Who is Eligible for Hair Patch Treatment?
Any person irrespective of gender can opt for this treatment. This is a non-surgical treatment and therefore is completely safe. Hence, there is no impact of this treatment on the health of any person. 
Who is not eligible for Hair Patch Treatment?
There is no such non-eligibility criterion. Anyone can opt for this treatment.
Any Side Effects of this Hair Loss Treatment?
There are no side effects of this treatment. This procedure is non-surgical. The glue used in the treatment has no side effects. Therefore, there are no side effects of this treatment witnessed to date.
Results of Hair Loss Treatment
The results of this treatment are always favorable. It is a safe and non-surgical treatment. One must opt for this treatment if he/she is facing the problem of hair loss. 
Also, if you have financial crunches then you can opt for this process. This treatment is very affordable. The treatment cost can be borne by any person. The problem of hair loss is increasing. Therefore, everybody cannot go for hair transplantation, and hence this treatment is a blessing for all of them.
Conclusion
This blog post has answers to all the questions related to hair patch treatment. A person looks elder because of baldness. Hair beautifies the face of a person. It constitutes a major portion of personality. 
Jawed Habib Lucknow offers one of the best hair patch treatments in Lucknow city. The salon is licensed to perform this treatment. It has a team of qualified professionals who are trained for the job.
All the services for personal care are being provided at this salon. This salon has all the amenities and equipment for the treatment.  
Go to Jawed Habib for getting the best hair patch treatment in Lucknow.