Almost every woman desire shiny, and smooth hair and why not? Silky straight hair not only gives an entirely new dimensional look but you can manage your hair easily and try new hairstyles. In order to achieve this gorgeous and stylish aesthetic, women are visiting salons. The market is buzzing from straightening, rebonding and smoothening to keratin therapy; there are plenty of options. However, before booking the appointment you need to know the difference between them. Let's get started with hair expert Jawed Habib so that you could decide what is best for your hair.

What is the difference between Smoothening, Rebonding, and Keratin?

Smoothening:

Smoothening is the milder version of Rebonding. The chemical process of saturating the hair with a formaldehyde solution is drying out and locking your hair straight using a flat iron. The chemicals used for hair smoothening are not as strong as other hair treatments.
This treatment smooths out the hair and removes frizz and dryness that lasts up to 6 months or more, depending on your hair care. And, If you desire a smooth and sleek hair look and less damage to your hair, you need to go for smoothening. Keep reading to know more post-care tips!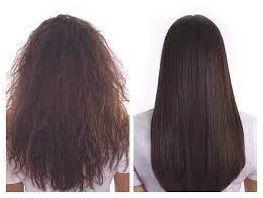 How can you care for your hair after Smoothening?
Wash your hair with Stylist's recommended shampoo and conditioner that does not contain sulfate.

Use the recommended hair serum. This will protect your hair from damage and pollution by creating layers on your hair.

Limit hair styling tools to avoid heat damage to your hair. However, if you want to blow dry, use cool settings.

Don't wrap or tie your hair with a tight ponytail for at least two days to stay away from damaging results.

Don't massage or oil your hair for at least 15 days.

Don't get your hair wet after three days of smoothening treatment.

Make sure you straighten your hair while you sleep.

Do not wash your hair with hot water. Instead, use lukewarm or cold water

Avoid hair color for the next six months.

Avoid using a hairbrush; choose a comb with a wide-tooth.
Rebonding:

Hair Rebonding is a chemical treatment that transforms your hair's natural and turns it into sleek, smooth, and shiny hair. It is the process that breaks down the proteins in your hair through chemicals. The chemical used to break the hair's bonds is a relaxer or softener. And the rebonding of this bond is done by a neutralizer. Rebonding is a permanent treatment that lasts for a year as it alters the structure of your hair. It makes your hair frizz-free, appealing, and well managed.
However, rebonding is a time-consuming process, and one should do it carefully to avoid undue damage to the hair. Therefore, it's advisable to rebond your hair to a trained hairdresser.

How can you care for your hair after Rebonding?

Your hair needs proper care and attention to prevent hair loss and breakage while settling into its new structure after rebonding.
Let the heat settle in. Don't wash your hair at least three days after the rebonding.

Make sure you don't clip or wrap up your hair or wear any hair accessories for three-five days.

Avoid using heat and chemical styling.

Try to use sulfate-free shampoo; it helps to retain moisture and softness.

It is recommended to shower with cold water(or luke water) at a suitable temperature.

Use a wide-tooth comb for extra care, especially after hair wash.

Avoid using blow-drying your hair with hot air.

Don't color your hair for at last six months after treatment.

Sleep with loose hair. Comb it and gently spread it on your bed. Don't let it lose its shape.

Don't push hair behind the ears for at least a month after to avoid creases in your hair.

Cotton pillowcases absorb moisture and leave your tresses frizzy and dry. If you want smooth and tangle-free hair, use a silk pillowcase.
Keratin:

Keratin is a structural protein that is already present in your hair. But due to the damage from the sun, sea, shampoo, pollution, and everyday life routines, keratin in your hair starts to break down. This leads to curly and unhealthy hair. Therefore, keratin treatment helps restore the hair to its natural protein and doesn't alter the structure chemically. It helps to remove frizz and make your hair look shiny and healthy.
The Keratin treatment takes two to four hours, depending on your hair length and thickness, hair texture, and the formula used. The result of the keratin hair treatment can last up to six months and depends on how well you can take care of your hair.
How can you care for your hair after Keratin?

Adding the tips from smoothening and rebonding, you need to follow the below information.
Its recommended not to wash your hair for at least three days.

Use a microfiber towel; the material is smoother and doesn't lead to friction and static in the hair.

Don't wash your hair with hot water. Likewise, don't directly heat from the blow dryer; it can melt the keratin coating.

Use only prescribed shampoo and conditioner by the stylist or the same brand of the keratin treatment.

Don't wash your hair often. It will help to maintain your keratin treatment for a long.

If your hair sweats during a workout, it's crucial to blow-dry immediately. This ensures that your sweat does not damage the treatment.

Ensure you don't take other hair chemical services in the next 3-4 weeks.

Don't style, or wrap your hair up for two weeks.
Important Note: Avoid saturating your hair in water for a prolonged period.
Which one is Better?

Still confuse! What to choose? Let's know in detail.
Smoothening: Smoothening makes your hair smooth and soft by removing the frizz. Hence, it results in a natural look.
Rebonding: Rebonding involves straightening hair through chemicals, resulting in an artificial look.
Keratin: Keratin treatment involves rebuilding the hair by putting protein into your strands, resulting in an artificial look.
Smoothening: It is a temporary treatment last for six months or depends on the hair care routine.
Rebonding: It is a permanent treatment that lasts up to a year or longer, depending on the hair care routines.
Keratin: It lasts for three to six months or more, depending upon how you care.
Be cost-wise(Varies on the length of the hair)
Smoothening: It is comparatively cheaper than rebonding and keratin.
Rebonding: It is slightly costly but not more than keratin.
Keratin: Expensive
Smoothening: It is ideal for people having wavy or curly hair.
Rebonding: It is ideal for voluminous, curly, and unmanaged hairy people.
Keratin: It is suitable for frizzy and unmanageable hair.
So, Girls! It's time to embrace your hair with these trends. In addition to the results of different styling therapies, you need to understand your style, taste and hair length, and quality. However, notice that treatment results vary from person to person. Therefore, before reaching the salon, you need to make the final decision about what you want.